Madhya Pradesh holds the famous pilgrimage destination and home of Buddhist monuments, Sanchi Stupa. It is positioned 46 KM from the city of Bhopal. Some of the oldest stone structures of India is situated in Great Stupa. That's why, every year, most of the tourist visit Sanchi stupa to see the enticing structure.
Also, to see monuments that comprise of monasteries, monolithic, and temples. During your visit to Sanchi Stupa, this guide will help you so that you don't miss new spots of Madhya Pradesh.
Sanchi Stupa
The history of Sanchi Stupa was backed around 1818 and discovered by general Taylor. It contains an archaeological museum that was built by Sir John Marshall in 1919. It contains the relics of buddha and several chambers. The formation of the original stupa was credited to Ashoka. It is recreated between 1912-1919 further down the management of sir john marshal. The statues of Sanchi Stupa and Buddha present the polishing of legendary Mauryan. It has four gateways and best known for Jatakas tales.
Sanchi Stupa- Things To Do
You will get to see a vast collection of towers and stupas above the countryside. It is not only a recognizable UNESCO World Heritage Site but also a unique heritage building. You can look at four beautiful Sanchi gateway that features the life of Jatakas and Buddha. Also, view artful façade as well as massive pillars that are striking straight to your eyes.
Must Place To Visit
After traveling to Sanchi Stupa, don't forget to see Ashoka Pillar situated next to the gateway. It contains an excellent and balanced structural architecture.
Sanchi Stupa Fairs And Festivals
Festival and fairs are the spirits that keep all Indians running and motivated. This historical place celebrates festivals that not only attract tourists but also get engaged in folk dance. Chethiyagiri Vihara festival is the most popular festival that happens in November. You can stay in hotels located in different regions. Or else, find a luxury resort, budget hotel, or guesthouse that is equipped with a vast collection of services. Few popular hotels to stay are Meera resort, Jehan Numa Palace, Gateway retreat, New Jaiswal Lodge, and the residency hotel.
Sanchi Stupa- What To Take?
The nearest railhead is the Sanchi railway station, which allows you to travel to the city in 3 minutes. The nearest airport is the raja bhoj airport, situated at 56.3 kilometers from Sanchi Stupa. Sanchi connects Indore, Bhopal, and Vidisha so that you can take any of the roads and travel to Sanchi. The best time to visit is in October.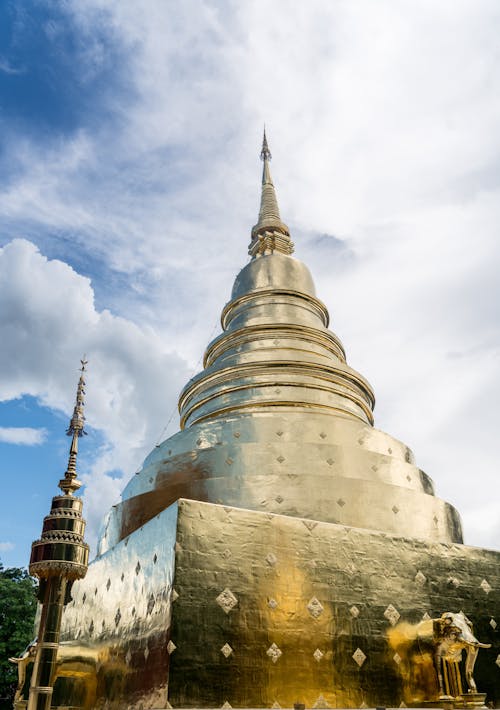 Sanchi Stupa Foreign Devotees
During the travel to Sanchi, you will find various foreign devotes wearing tunics in Greek dress or Sakas in the historical period in Central India. Also, you will see musical instruments such as double flute and carnyx-like horns.
Conclusion
Sanchi Stupa is one of the oldest Buddhist sites with a hemispherical structure. It will take 15 minutes to reach Sanchi from Vidisha. Once you reach the city, travel as many places as you find exciting and worth visiting.  In the long run, you will have great fun. Also, capture the best memories during the visit. In the first place, keep all the items with you. It will not only help you but also make sweet recalls.